Need an Expert Plumber in Lane Cove?
Plumbing issues within the Lane Cove area can bring about significant inconveniences and financial hardships. Leaky taps, obstructed drains, malfunctioning water heaters, and burst pipes disrupt your daily activities, adding stress to your already busy schedule. Pure Plumbing Professionals offer a comprehensive answer to all plumbing challenges. With an unwavering focus on prompt and expert service, our experienced plumbers are equipped with the skills needed to address all your plumbing needs. Whether it's routine maintenance, urgent repairs, or the installation of complex plumbing systems, we are dedicated to delivering solutions that restore a sense of normalcy to your life.
$0 call out fee! Book A Local Lane Cove Plumber Today.
Emergency Plumbers Lane Cove
Dealing with plumbing emergencies can impose a heavy burden on your daily life. Whether it's a burst pipe or a sewage overflow, these situations can affect your routine and cause further damage to your house if you don't act quickly. At Pure Plumbing Professionals, we proudly offer the foremost team of 24 hour plumbing experts in the Lane Cove area. Our dedicated team operates around the clock to swiftly regain control over plumbing emergencies and restore your routine.
Our after-hours plumbers are highly skilled in managing a diverse range of urgent plumbing issues, which encompass:
Sewage Overflows
Toilet Overflows
Gas Leaks
Blocked or Overflowing Drains
Water Heater Bursts/Breakdowns
Fire System Failures
And More
Our team of emergency plumbers are committed to efficiently rectifying your plumbing problems and reinstating orders without delay.
Commercial Plumber Lane Cove
Commercial plumbing issues can inconvenience both staff and customers decreasing sales and staff efficiency. Pure Plumbing Professionals are the forefront authority in commercial and industrial plumbing services within Lane Cove. Our local team of licensed and highly proficient plumbers possess adept skills to combat any plumbing challenges your commercial premises may have. Our comprehensive array of commercial and industrial plumbing services encompasses:
Commercial Hot Water Systems - Installation, Servicing, and Repairs
Preventative Plumbing Maintenance
Gas Plumbing - Installation, Repairs, and Testing
Pipe Relining
Drain Unblocking
CCTV Pipe Inspection
Drain Cleaning
New Fit-Outs and Renovations
Our commitment to excellence is unwavering, ensuring that your business's plumbing can operate efficiently. Pure Plumbing Professionals is devoted to providing unparalleled service tailored to the specific requirements of your commercial property in Lane Cove.
Residential Plumber Lane Cove
When seeking dependable and expert residential plumbing services in Lane Cove, Pure Plumbing Professionals are your reliable and local ally. Fueled by a robust reputation forged over years of exceptional performance, Pure Plumbing Professionals takes the lead as the preferred option for homeowners in pursuit of top-notch plumbing resolutions. Our team of expert residential plumbers will work with you to create a solution tailored to your home and specific needs.

Kitchen Plumbing Experts Lane Cove
Pure Plumbing Professionals offer unparalleled expertise in kitchen plumbing in the Lane Cove region. Our adept kitchen plumbers work closely with you to devise solutions that align with your kitchen's demands. We offer a wide range of kitchen services including:
Tap Installations
Kitchen Renovation Services
Water Filtration Installations & Maintenance
Stoves and Cooktops Installations & Maintenance
Flexi Piping Installations
Water Leak Detection and Repairs
Fridge Water Plumbing
And More
Our adept team of kitchen plumbers will ensure that your kitchen operates seamlessly.
Bathroom Plumber Lane Cove
For bathroom plumbing services throughout Lane Cove, look no further than Pure Plumbing Professionals. Our team of proficient plumbers specialise in enhancing both functionality and comfort within your bathroom space. A selection of the bathroom plumbing services we offer includes:
Drain Unblocking
Repairing Leaky Taps
Installing New Taps
Spa, Bath, Vanity & Shower Installations
Tempering Valve Installation & Testing
Our wealth of knowledge and hands-on experience allows us to provide tailored solutions that cater to your bathroom's unique requirements.
Toilet Plumbing Lane Cove
Toilet issues can significantly disrupt your daily routine, causing substantial inconvenience. Whether you're dealing with a clogged toilet or a cracked bowl, problems with your toilet can cause great distress to your household. In these moments, count on Pure Plumbing Professionals to be your trusted partner in resolving toilet plumbing woes. Our focus is on delivering efficient and hassle-free solutions that swiftly restore your toilet's functionality.
Our expert team of toilet plumbers offer an extensive range of solutions to common toilet problems, such as:
Leaking Cisterns
Toilets that Run Continuously
Blocked Toilets
Damaged Toilet Seats
Cracked Toilet Bowls
Faulty Seals
Non-Flushing Toilets
And More
With our transparent pricing approach, you can rest assured that there won't be any unpleasant surprises. Our adept team of toilet plumbers are poised to provide rapid and tidy solutions to all your toilet plumbing concerns.
Maintenance Plumbers Lane Cove
Regular preventive maintenance of your plumbing system plays a crucial role in ensuring the longevity of the plumbing systems within your home or business. Overlooking maintenance can significantly elevate the likelihood of major plumbing catastrophes, inflicting damage on your property. Through consistent upkeep, the potential for severe plumbing failure is greatly reduced. Our team of adept maintenance plumbers possesses the skill to spot and act upon early warning signs within your plumbing systems. Pure Plumbing Professionals team of maintenance plumbers offer a range of preventive maintenance services such as:
Water Sampling
Drain Maintenance
Cleaning of Stormwater Drains and Pits
Roof and Gutter Cleaning
Testing and Servicing of Hot Water Systems
We work with you to devise plumbing solutions that actively reduce the risk of plumbing failures within your residence or business.
Specialist Plumbers Lane Cove
Pure Plumbing Professionals offers a range of specialist plumbing solutions for your every plumbing need. Our expert plumbers are adept at working alongside you to get the best specialist plumbing solution for your home or business.
Drainage Plumber Lane Cove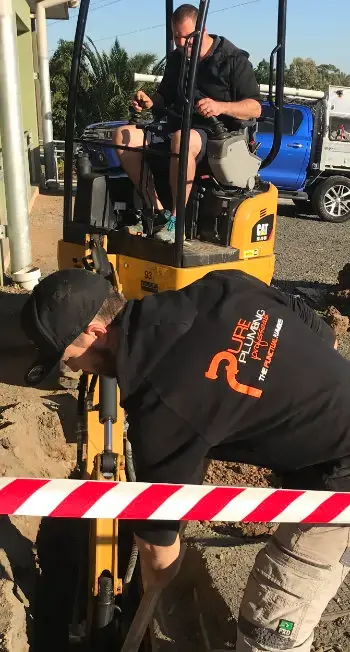 Pure Plumbing Professional's team of expert drainage plumbers specialises in delivering solutions to ensure the efficiency of your drainage systems. Whether addressing minor blockages or more intricate drainage issues, our team possesses the expertise and tools to diagnose and resolve drainage problems. Our team are adept at providing a wide range of drainage plumbing services including:
Pipe Relining
CCTV Pipe Inspections
No Dig Pipe Repair
Stormwater Drain & Pit Repair & Installation
Drain Unblocking
Drain Cleaning
Pure Plumbing Professionals are your reliable source for expert drainage and blocked drain plumbers in the Lane Cove area.
Gas Plumbers Lane Cove
When it comes to proficient gas plumbing services in Lane Cove, look no further than Pure Plumbing Professionals. Our dedicated team of skilled gas fitters are well-versed in handling a wide range of gas-related needs with precision and expertise including:
Emergency Gas Repairs
LPG System Installations
Natural Gas System Installations
Gas Leak Detection
Gas Compliance Certification
Gas Appliance Installation & Repair
LPG to Natural Gas Conversions
Bayonet Fitting Installations
Gas Hot Water Installations, Repairs & Maintenance
Pure Plumbing Professionals are your trusted gas plumbers in Lane Cove, we prioritise precision and customer satisfaction, ensuring that your gas systems are installed, maintained, and repaired to the highest standards.
Hot Water Plumber Lane Cove
For premium hot water plumbing solutions in Lane Cove, Pure Plumbing Professionals are your one-stop shop. Our team of hot water plumbers understand the significance of a consistent and efficient hot water supply for both residential and commercial spaces. Common hot water plumbing services our team offers are:
Hot Water System Installation
Hot Water System Repairs
Routine Maintenance for Hot Water Systems
Hot Water System Replacements
Tankless Water Heater Installation and Servicing
Gas and Electric Water Heater Services
Thermostat and Heating Element Replacement
Hot Water System Efficiency Upgrades
Solar Hot Water System Installation and Maintenance
Pure Plumbing Professionals is your go-to choice for hot water plumbing in the Lane Cove area.
Frequently asked questions
Is a rainwater tank worth it?
What are the different toilet options?
How plumbing in a house works
Looking for more than Plumber in Lane Cove-Council?
We provide additional services in Lane Cove-Council