Professional, reliable commercial plumbing team
Pure Plumbing Professionals have a great reputation when it comes to plumbing solutions for businesses and complexes. We understand the importance of keeping your plumbing flowing, no matter what time of the day or night.
Book Commercial Plumber Today
Plumbing contractors Sydney
Our commercial plumbers are backed by service team which allows our tradespeople to respond quickly to jobs and complete projects as efficiently as possible.
The latest diagnostic, fault finding and repair equipment mean our team can find the issue and carry out repairs in the most effective manner practical.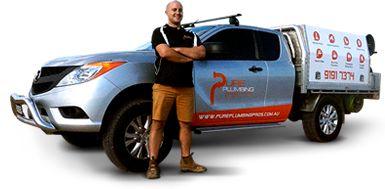 Each of our commercial plumbers is trained and kept up to date with all the latest regulations, codes, standards and compliance requirements for plumbing and gas fitting.
Emergency plumbing needs covered, we're available 24 hours a day.
Call 0488 801 003
Speak with one of our team today to book in your businesses scheduled and preventative maintenance contracts. We cater for large and small businesses offering testing, inspections, and routine maintenance to keep your plumbing systems in top working condition.
No risk contracting - Pure Plumbing Professionals are covered by all the required industry licences and insurance plus all our work is guaranteed.

Complete commercial plumbing services
We endeavour at all times to address your plumbing problems as quickly as possible to reduce disruption to your business and operation flow. We offer a full range of compliance testing services and provide plumbing solutions specifically for commercial and industrial operations.
Our commercial plumbing solutions include:
All industries serviced
Our commercial plumbers have experience across many different industries. There aren't too many plumbing problems or requirements that we haven't found practical solutions for.
Contact our team for all your commercial plumbing requirements across Sydney's CBD, eastern and northern suburbs on 0488 801 003 or complete our online booking request today.
Contact our experienced team for all your commercial plumbing needs
Frequently Asked Questions about plumbers
How often should plumbing be replaced?
Why does plumbing need to be vented?