Professional thermostatic mixing valve test in Sydney
Pure Plumbing Professionals specialize in the testing and certification of Thermostatic Mixing Valves (TMV). Our commercial plumbers are fully licensed and qualified to service and test all types of TMV's at intervals not exceeding 12 months. Regular maintenance ensures the thermostatic mixing valve equipment continues to control the hot water supply accurately to safely deliver hot water to all relevant fixtures.
Book Plumber Today - $0 Call Out Fee*
*terms and conditions apply
What types of facilites need to have a TMV installed?
TMV's are commonly found in installations such as aged care, nursing and retirement complexes, child care centers, hospital and medical facilities, disabled amenities buildings. Regular thermostatic mixing valve testing and maintenance ensures appropriate functioning of the system.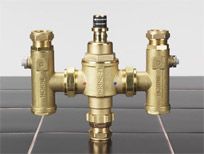 What does a thermostatic mixing valve do?
The major role of thermostatic mixing valves is to mix a hot water supply (above 60°C) with the cold water supply to provide tempered water at predetermined temperature. The safe water temperature depends on the application and the facility the equipment is located in.
TMV performs another important function as well. If the cold water supply to the TMV is interrupted the valve will shut down the hot water supply to all fixtures downstream. It will protect anyone using hot water from potential burns, scalding or injury.
Types of facilities we service for hot water requirements:
Hospitals and medical centres
Hairdressing and beauty salons
Disabled amenities / facilities
Childcare and early learning centres
Aged care and retirement facilities
The risks of hot sater scalds
If you are late in calling professionals to service your TMV the result could be scalds or burns. The seriousness of scalds or burns depends on the temperature of the water and the time that contact was made with the hot water. A third-degree burn means the burn is through the full thickness of the skin and is likely to require surgery. There is a significant difference in the time taken to receive a third-degree burn at different temperatures.
Approximate contact times to receive a third-degree burn:
At 70°C – 1/sec adult – 0.5/sec child
At 60°C – 5/sec adult – 1/sec child
At 55°C – 30/sec adult – 7/sec child
Below 50°C – approx. 5 mins adult/child
Commercial plumbing thermostatic mixing valve services in Sydney
When you need a plumbing contractor that understands the specific needs of your systems, you need not look any further than the commercial plumbing experts at Pure Plumbing Professionals. Contact our team on 0488 801 003 or complete our booking request form today.