Fast, local blocked sewer drain clearing service Sydney
Are your toilets, basins or bath taking longer than usual to drain? Can you hear gurgling in the drains? Is your toilet overflowing? You might have a blocked sewer pipe which can create some big issues if not cleared or repaired promptly. Our experienced plumbing team can clear sewer blockages in your home or business across Sydney's northern suburbs.
For prompt, effective sewer drainage solutions contact Pure Plumbing Professionals today.
Book Sewer Clearing Online Now & Save 10%*
Clogged sewer problems
Some of issues that can result from a blocked sewer pipe include:
Blocked toilets and sinks
Negative health effects on occupants
Foul smelling environment
Increased bacterial and germ presence
Breeding ground for disease-causing insects like mosquito's
Potential flooding during rainy seasons
Call the friendly and experienced team from Pure Professional Plumbing to clear your sewer pipes and get everything flowing again. There is no call out fee and we will clear blockages fast!
Our professional team can diagnose, clear and repair if necessary. Some of our effective services to clear blocked drains include:
Free CCTV camera inspection with every blocked drain
High-pressure water jetting
Sewer and stormwater repairs and replacements
Pipe patching and relining
Common causes of sewer blockages
A blocked or clogged sewer can be caused by grease, food, hair, and in some cases mud and leaves. Sometimes people put things down drains that just don't belong there. These include:
Wet wipes (baby wipes)
Fats, oils or grease (from the kitchen or car)
Needles
Cotton buds
Prescription medication
Solvents, paint and turpentine
Chemicals, herbicides and pesticides
Plastics including food wrappers and apple stickers
Contraceptive devices
Food scraps including egg shells, bones and cooked rice
Dairy products
Coffee grounds
Paper towel
Nappies
Feminine hygiene products like tampons or sanitary pads.
"Flushable" wipes should never be flushed
Information above from unity water unitywater.com.au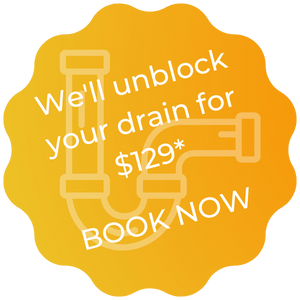 Trees can block drains also as the roots going looking for nutrients, so it is a good idea to find out the location of your waste water pipes before planting trees. There is a handy guide on Sydney Water's website to assist you with the location of waste water pipes - sydneywater.com.au
Generally, it is better to keep trees six metres away from pipes - check in with the local nursery for information on trees and their root systems.
If you do have trees that might be a problem, call us and we can look at the best way to manage your wastewater pipes.
If you have a clogged drain but it is not on your property, we can call Sydney Water and request them to fix it.
Long lasting sewer drain repairs using no-dig pipe relining
We understand the frustration and inconvenience that can be caused by camaged, cracked or broken pipes causing havoc in your home. That's why we offer a complete sewer pipe relining service throughout Sydney that will provide a long term solution to your recurring sewer drain problems.
Our sewer pipe relining service is long lasting and provides a permanent solution to your damaged pipes - meaning you can get on with your life without having to worry about them clogging up anymore.
Take a look at one of our sewer pipe relining jobs carried out underneath a Sydney home.
Sewer clearing Sydney north
We can clear blockages fast - once we locate the block our high-pressure water jetters will flush the pipes out and have them flowing again. We can also patch, reline or repair pipes if needed. Call the dedicated and professional team at Pure Plumbing Professionals to sort out your blocked sewer.
Contact our Sydney plumbing team on 0488 801 003 or complete our service request form today.
References - Sydney water sewer choke information http://www.sydneywater.com.au/SW/plumbing-building-developing/plumbing/sewer-chokes/index.htm
*terms and conditions apply, speak to our friendly service team for details.
Frequently Asked Questions about drainage solutions
Who is Responsible for Stormwater Drainage?
Types of Stormwater Drainage Systems