Complete leaking pipe repair specialists
Struggling with a burst pipe? Our Sydney plumbers are on hand to help. Pure Plumbing Professionals are experts at fixing burst and leaking pipes in homes and businesses throughout Sydney.
Not sure where it is leaking? We use a range of leak detection methods to quickly find and fix the leaking pipe.
Get help with your burst pipe by calling 0488 801 003 or for non-emergency pipe leaks complete the form below to schedule a plumber visit.
Book Plumber Today - $0 Call Out Fee*
Emergency burst pipe repair Sydney
Need urgent repairs to a burst pipe? Our 24 hour emergency plumber is on call day and night to respond to and fix burst pipes in Sydney.
Call 0488 801 003 now for emergency pipe repairs.
Stop ignoring those leaking pipes
Burst pipes are a hidden danger for many reasons. They can be a serious problem causing damage to your residential or commercial property. Pure Plumbing Professionals' have helped many customers avoid expensive repairs through regular maintenance and plumbing inspections.

Undetected burst pipes can increase water bills and lead to extensive property damage, even over short periods. Known as "water damage," this issue can destroy existing floorboards, damage walls and furniture, and cause flooding.
Our water pipe services include:
mains water pipe repairs
mains water leak detection
pipe freezing prevention and repair
state of the art pipe joining methods
stopping water hammer problems
moving pipes for renovations
additional pipes for hot water systems
What to do if you have a concealed water leak?
If you do have a concealed water leak on your property, you may be able to request a review get a credit on your water bill from Sydney Water.
Thankfully it's a straightforward process, but first you need to deal with the most urgent issue of finding and fixing the pipe.
Our plumbers will come out and inspect the property, find the leak and repair it, you then submit your claim to Sydney Water. The process of making a claim and submitting the relevant information to Sydney Water to request your credit is now online.
Certain conditions must be met to request a water credit from Sydney Water, these include:
The leak was not visible.
The leak repair was carried out by a licenced plumber & you can provide a copy of the repair invoice.
A meter reading needs to be taken after the water leak is repaired.
The leak claim needs to be submitted within a year of the repair.
That you have not made a leak claim for that property within the past 5 years.
The leak can not have been on vacant land or an unoccupied property
The leak can not have been from a tap, toilet, dishwasher or washing machine.
For more information and to make a Hidden Leak Allowance claim visit Sydney Water - sydneywater.com.au.
Please note - all claim approvals are at the discretion of Sydney Water.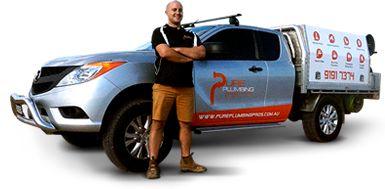 Professional pipe plumber services in Sydney
Our plumbers can perform leak detection tests, new pipe installation, instant repairs, and re-piping. We'll ensure that no stone is left unturned with your burst pipe problems be it water or gas.
Contact Pure Plumbing Professionals for all your burst pipe repair needs on 0488 801 003 or use our quick online booking form today.
*Conditions apply. Speak to our friendly team for details.
Frequently Asked Questions about plumbers
Is a rainwater tank worth it?
My pipes are making a banging sound, can you fix it?
What are the different toilet options?