Complete professional plumbing inspections
Looking for a comprehensive plumbing inspection to find out exactly what's going on in the vital areas of your home or commercial property that you can't see? The experienced licensed plumbers at Pure Plumbing Professionals offer a complete plumbing inspection service across Sydney's northern and central areas for your peace of mind.
Book Plumber Today - $0 Call Out Fee*
*terms and conditions apply
Why get a plumbing and drainage inspection?
A comprehensive plumbing and drainage inspections can provide homeowners, commercial property owners, and body corporate and property managers with a very clear picture of the health of the plumbing systems in the building. This can assist with budgeting for repairs but also provides an opportunity to get work done when it suits you, rather than having to address problems in an emergency situation.
One of the great advantages of using an experienced professional is they will pick up problems the untrained eye could miss. They're also equipped to get to the hard to reach places with specialist items like a drain camera to inspect inside drainage systems and thermal imaging to detect leaks within walls.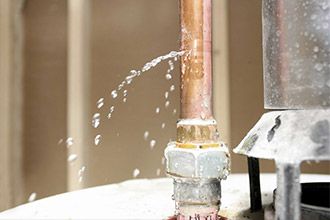 Benefits of a complete plumbing inspection
Prevent damage from mains water leaks - catch issues before they cause larger problems when you least expect it. A leak in the wall or cabinet can quickly effect extensive costly water damage.
Reduce water waste - even a slow leak can add to your water bill over time.
Prevent blocked drains - identify partially clogged drains before they become completely blocked. Problems like tree root intrusion can very quickly lead to clogs.
Energy efficient hot water - faults in your hot water system can mean it needs to work harder to heat the water for your home, which can result in higher power costs as well as shortening the life of the water heater, increasing replacement and repair costs in the long term.
Free-flowing stormwater drains - it's really important during extended periods of dry weather to check the stormwater drains for a build-up of dirt, garden debris or leaves so when storm season comes around the drains are effective at removing rainwater to prevent flooding.
Prevent pest damage - some pests, like termites, thrive in the damp environment which can be created by a slow leaking pipe or drain. Fixing leaks quickly can reduce the likelihood of infestation or damage.
Prevent mould or mildew growth - mould and mildew can create health issues for those living in your home especially residents with allergy problems.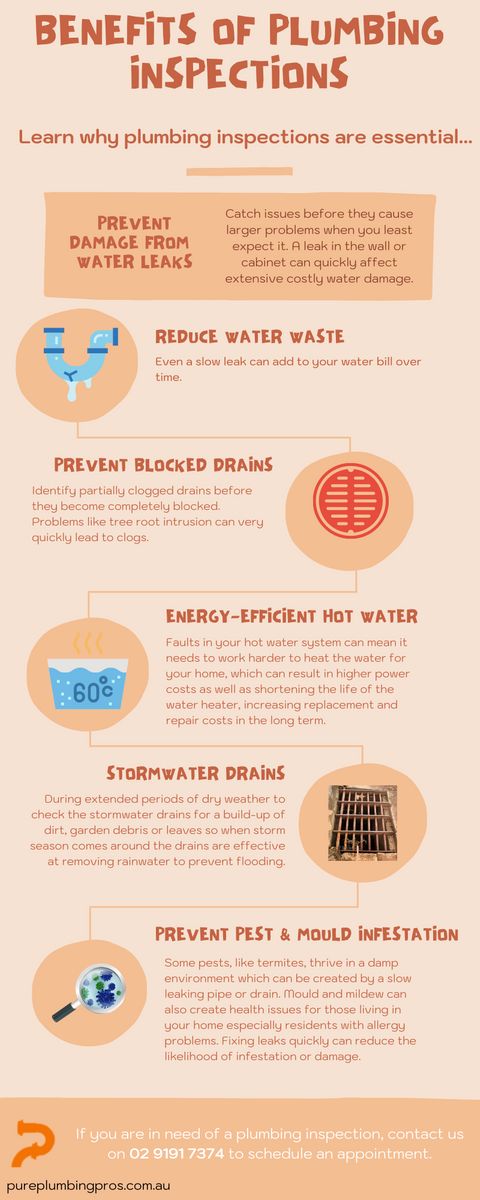 Pre-purchase plumbing inspection
This is a great investment for those selling their home as well as those looking to purchase a property and could potentially save you thousands of dollars in the long run. Getting a full report of the health of your homes plumbing systems prior to putting your house on the market mean you're fully informed and can avoid any nasty, deal breaking surprises a the last minute. For the buyer, there is the peace of mind of knowing exactly what you're buying.
A pre-purchase plumbing inspection can pick up:
any DIY, home handyman, faulty or unlicenced plumbing which could affect insurance claims if problems arise in the future.
that drains go where they are supposed to go - wastewater from the home to sewage and rainwater systems to stormwater.
what repair or replacement costs you could be up for in the near future.
and much more
In extreme cases, extensive or ongoing leaking water or plumbing problems can lead to structural issues in the building which could be very costly to repair.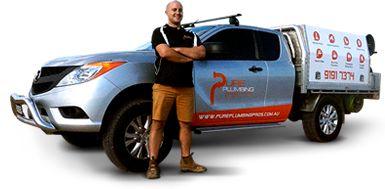 Plumbing inspections Sydney
Our plumbing team can help you get a clear picture of the plumbing systems in your property book a plumbing inspection or pre-purchase inspection in Sydney on 0488 801 003 or complete our online inspection request form today.
Frequently Asked Questions about plumbers
How to install a dishwasher
Is water hammer causing annoyance on your premises?
Leaking washing machine taps, the silent destroyer