Your local drain camera inspection specialists across Sydney
Our drain plumbing team offers a comprehensive CCTV drain inspection service throughout Sydney and suburbs. If your property suffers from recurring blocked drains, water leaks, or stormwater issues a drain inspection can quickly uncover the reason these problems keep developing.
Our CCTV drain camera provides a clear record of the health of the pipes allowing for targeted repairs to prevent further issues.
Book Drain Inspection Today - $0 Call Out Fee*
What is a CCTV drain inspection?
The plumbing inspection is carried out with the latest in CCTV camera technology. Our drain cameras are fitted with a high powered sonde, which when used in conjunction with locators, allow our drainage specialists to pinpoint any locations needing repairs or further inspection. The camera fitted with a pan and tilt capability which gives us the ability to closely inspect any cracks, breaks or blockages on even the largest of drainage networks.
Once the survey is complete our plumbing team will provide a detailed report on any problem areas uncovered during the inspection, plus supply you with a full-colour video recording of the drain or sewer for your records.
Through expert analysis of the video we can recommend specific drain repairs, pipe relining or patching, and the best way to carry out any work to minimise disruption to your home or business.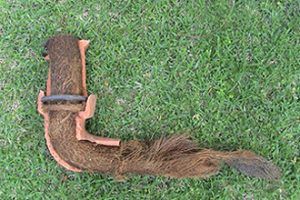 Complete sewer inspection service
Ageing sewer pipes can be susceptible to a huge range of issues a comprehensive sewer inspection can uncover:
cracks or breaks in the pipe
tree root intrusion
debris build-up
obstructions within the pipe
crushed or collapsed areas
pipe movement around joins
blockages - full or partial
old or faulty pipe relining
burst water mains
All of these issues can result in blocked drains, backed up toilets, slow draining showers, and bad odours.
A complete sewer inspection will accurately locate breaks, blockages or faults avoiding the need to dig up large sections of pipe to find problems, saving time and keeping drain repair costs to a minimum.
Using pipe relining to prevent recurring drain blockages
Often a drain inspection will identify that cracked, broken, or misaligned drains are the cause of recurring drain blockages. If the damaged pipe is located in a hard to reach location such as under the concrete slab foundation, beneath driveways or established landscaping our team will probably reccommend pipe relining to repair the drain pipe without needing to dig up or remove the infrastructure.
Find out more about what the pipe relining process involves here - What is pipe relining?
Complete plumbing inspections Sydney
Contact Pure Plumbing Professionals for a comprehensive CCTV pipe inspection on your property on 0488 801 003 or complete our online booking request today.
*terms and conditions apply, speak to our friendly service team for details.
Frequently Asked Questions about drainage solutions
Signs your sewer drain is clogged
How do I report a blocked drain to council?