Looking to make your home Water Efficient?
Whether you are a tenant or a home owner, water efficiency is something everyone needs in their home. Looking after how water efficient your home is not only helps to save a precious resource but can also dramatically reduce the size of your water bill.
DEAL - Book Online Now For 10% Off*
*terms and conditions apply
Passing on the water bill to tenants
Did you know that in order for you to pass on your water bill to your tenants you need to be able to prove that your home is water efficient?. This can be done numerous ways from replacing shower heads and leaking taps to dual flush toilets and flow restrictors. There is, however, a minimum standard of requirements from these devices in order to have your home deemed water efficient. These standards are:
Shower heads that do not exceed a maximum flow rate of 9 litres per minute
Internal cold water taps, single mixer taps for kitchen sinks and bathroom hand basin that do not exceed a maximum flow rate of 9 litres per minute
No leaking taps anywhere on the premises at the start of the tenancy or when the other water efficiency measures are installed
Pure Plumbing is your go to plumbing professionals when it comes to making your property water efficient. We can install all water efficient devices to your home and provide proof that your home is indeed water efficient.
We'll also provide you with all the information that you need to take advantage of any Government rebates that might be applicable to your new services upon completion of the job.
Water efficiency appliances
Water efficiency isn't just about installing new water efficient fixtures around the home. Our tip is that you can take it one step further and use water saving appliances as well. To find out the water efficiency of an appliance you should refer to the WELS sticker.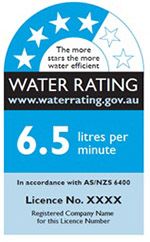 WELS stands for Water Efficiency Labelling Scheme.
This sticker is on most water appliances and shows the water efficiency of that appliance.
The stars on the label indicate the level of water efficiency out of 6. The more stars the more water efficient.
WELLS labels also have the amount of water that is used per minute
The will also be a licence number specific to the registered company name.
Expert service and advice
For all your plumbing requirements contact Pure Plumbing Professionals on 0488 801 003 or use our online booking request today.
*Conditions apply. Speak to our friendly team for details.