Your trusted local Parramatta hot water experts
Are you suffering with cold showers? Maybe your hot water just doesn't last as long as it used to? Our Parramatta plumbers are hot water specialists and can help with all your hot water needs. We can either repair the existing hot water system or supply and install a completely new system. No matter what type of system or brand, we work with them all. If it is an emergency and you book before 10am, we'll even guarantee being there that day.
Book Hot Water Service Parramatta
Hot Water Repairs in Parramatta
Whilst hot water systems are generally reliable, they do sometimes need a new thermostat to ensure the water is heated to the correct temperature. Or if you believe the water is too hot and a potential burn risk; a thermostatic mixing valve may do the job. No matter what the problem is, our Plumbers can fix it.
With over 10 years of experience in hot water system repairs you can be rest assured that when you get a Pure Plumbing Professional to repair your system you are getting a wealth of industry knowledge and experience.
New hot water systems in Parramatta
A hot water system is a requirement for any home and can play an important role in keeping your family warm. If something should go wrong with yours, it could take more time and money to fix - making the option of replacing it entirely worth considering.
New systems come not only with manufacturer warranties but also guarantees from us on proper installation - ensuring they will serve you well while lasting many years! Depending on how big (or small) your household is, we offer several sizes that are suitable; ranging anywhere between 50l tanks perfect for apartments or much larger models better suited to bigger homes with multiple occupants.
Gas hot water systems
Struggling to find the right gas hot water system for your home or business? Look no further; our experienced gas hot water technicians can provide sound advice and professional installation services on a variety of systems from market leading brands including Bosch, Rheem, Rinnai, Vulcan and many more!
Gas has been proven as an efficient energy source, reducing running costs while simultaneously cutting down greenhouse gas emissions so, you can rest assured that your wallet and environment are in safe hands.
In addition, if anything ever goes wrong with your system we're available 24/7 offering fast repair solutions. To maximise performance levels over many years regular maintenance servicing is highly recommended annually. This allows you peace of mind knowing everything's working smoothly at all times.
Electric hot water systems
Enjoy the convenience and reliability of an upgraded electric hot water system in your home or business. Pure Plumbing Professionals provide expert assistance with selecting, installing and servicing to ensure maximum efficiency.
We offer supply and installation services for a range of units which are designed for any size household; including economical single element models as well as larger 400L family sized options that can be installed indoors or out. Plus you'll benefit from savings on power costs through taking advantage of off peak electricity tariffs, making sure you get all the hot water when it counts without breaking your budget.
Heat pump systems
Consider upgrading your home's water heating system to a heat pump unit and reap the benefits of renewable energy while reducing both greenhouse gases and the environmental impact.
Not only are heat pump systems up to three times more efficient than electric storage units, but you'll also qualify for STCs! An added bonus with heat pump hot water is that they can operate day or night in colder temperatures as low as -10°C, unlike solar hot water systems, which require sunlight.
Plus, there's no need for any roof reinforcements since heat pump systems are ground mounted and can be easily installed right at where your old system was located. Our team offers maintenance services on all market leading brand heat pump models such as Rheem, Bosch and Vulcan.
Instant hot water systems
If you're looking for energy-efficient hot water that won't take up too much space, a continuous flow system could be the perfect fit.
LPG and natural gas models are available, for both indoors and outdoors, with 6 or 7 star ratings to help reduce your carbon footprint while meeting all of your household's hot water demands.
Unlike traditional storage systems, which depend on the number of people living in a household when estimating size requirements, instantaneous units are based on how many outlets need simultaneous access to warm water. We can advise on the capacity you will need when using hot water for showers, baths, kitchen tap and laundry concurrently. We supply and install the best instant hot water systems on the market from well known brands such as Stiebel Eltron, Rinnai and Dux.
Solar hot water
Looking to make a smart, eco-friendly switch? Solar hot water is the perfect choice. With its long term benefits, such as reducing your carbon footprint while saving money on bills, you'll feel great knowing that what's best for the environment can also be beneficial for your household.
What about if it's a cloudy day: will my solar system still produce hot water? Well, there's no need to worry as our expert plumbing team will provide everything needed from panel placement through installation and explain how electric or gas boosters offer reliable backup when sunshine may be scarce. Make solar power work for you today with the very best in efficient, renewable energy, solar hot water systems from all leading brands.
Installing all the leading water heater brands
Pure Plumbing Professionals supply and install a full range of hot water systems from all the proven, leading brands including:

Brighte 0% interest payment plan for hot water systems
Pure Plumbing Professionals have partnered with Brighte to provide finance options to help our customers get their hot water system installed sooner. Find out more about using Brighte finance today - Brighte.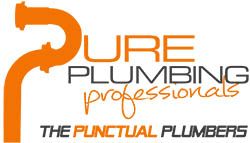 If you are unsure on what system is right for you feel free to contact us by calling on 0407 837 729 or by filling in our contact us form . One of our friendly staff will get back to you as soon as possible and will be able to assist you in making the right choice for your home.
All Work Guaranteed
When it comes to picking the right plumber it can become quite difficult. All of the plumbers in your area will claim to be the best in the business and will out do their competition. We on the other hand feel that our level of service and workmanship speaks for itself. In that we off a full lifetime workmanship guarantee on all work that we carry out on your home. We are confident within our plumbers and their abilities that if it's not right the first time we will return and fix it for free.
Frequently asked questions
TMV vs Tempering Valve - What are they and why do we need them?
Rheem Gas Hot Water System Troubleshooting
What should the hot water temperature be in my home?
Looking for more than Hot Water in Parramatta?
We provide additional services in Parramatta