Gas water heater installation, repairs, & service
Whether you need a new gas hot water system for a small apartment or a large capacity unit for a big family home Pure Plumbing Professionals the perfect solution for your water heating needs. We offer the supply, installation, repairs, and servicing of all the major brands including Rheem, Rinnai, and Bosch.
Book Gas Hot Water Online Now For 10% Off*
*terms and conditions apply
Benefits of gas hot water systems
With natural gas available to much of the city gas hot water is already a popular choice for many Sydney homes. With the move away from the inefficient old style electric storage hot water systems residents are quickly upgrading to one of the many styles of gas water heaters.
Just a few of the many great benefits of gas water heating includes:
Fast hot water - gas burns very hotly which allows the system to heat water quickly
Energy efficient water heating - with some instant gas models rating at over 90 % efficiency gas can be one of the most cost effective water heating options
Eco-friendly - much lower greenhouse gas emissions than electric systems (around 25 to 33% less)
Never run out of hot water again - instant systems continually heat the water as you require it
Available in LPG or natural gas options for applications on and off the mains gas grid
If you're on a mains gas line a high-efficiency gas system is one of the cheapest hot water options to install and operate
Storage gas hot water systems
Modern gas storage hot water heaters are much more cost effective to run (compared to the equivalent electric model), they're not restricted by time-of-day tariffs, plus many models have achieved a 4 or 5-star energy rating. Upgrading from an electric to a gas storage system is straight forward, especially if your home is already connected to a natural gas supply.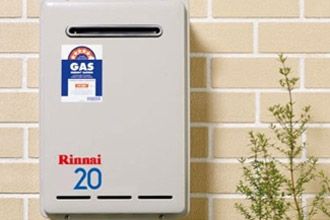 Instant gas hot water systems
Also called continuous, instantaneous or tankless gas hot water, these compact units can save you space and energy. There's no power wasted to maintain a large tank above 60° to prevent legionella growth, instant gas heaters only need to heat to 50° (recommended safe delivery temperature) as the water is needed.
The small units fit just about anywhere so it can be installed nearer the point of use, meaning less water wasted waiting for the hot to flow through to the tap. Plus, you'll never run out!

Brighte 0% interest payment plan for gas hot water systems
Pure Plumbing Professionals have partnered with Brighte to provide finance options to help our customers get their gas hot water system installed sooner. Find out more about using Brighte finance today - Brighte.
Got a hot water emergency?

Get help fast. Call our emergency plumber and gas fitter now 0488 801 003 24 hours a day, 7 days a week.
Your local gas hot water heater specialists Sydney
Contact Pure Plumbing Professionals for all your gas hot water system requirements, from installing a new unit to repairs or maintenance of an existing one on 0488 801 003 or completing our booking request form today.
*Conditions apply
Frequently Asked Questions about hot water
Vulcan Hot water system troubleshooting
How do solar hot water systems work?
How long do hot water systems last?