Dux Hot Water Sydney
Energy efficient Dux hot water systems
Australian made Dux hot water systems provide a range of water heating options for your home or business. From the extensive Dux gas and electric collection to the latest in instantaneous, solar, and heat pump systems, Dux has the perfect solution to your hot water needs. The Pure Plumbing Professionals can supply, install, repair, and service the full range at your Sydney property.
DEAL - Book Online Now For 10% Off*
s

*terms and conditions apply
The Dux winning energy savings range

Sunpro solar gas boosted
split system - panels on the roof, tank mounted on the ground
mains pressure system
low megajoule consumption burner
Panel Management System protects against frost and overheating
eligible for STC's
Sunpro electric boosted solar hot water
high-performance black chrome surface solar collectors
multi-temperature sensor vitreous enamel tank configuration
Hotlogic processor which constantly searches for and switches to the cheapest available energy source
mid-height element boosting
eligible for STC's
Airoheat heat-pump system
compact design for quick and simple installation
innovative de-icing function
Hotlogic controller for cold climates
eligible for STC's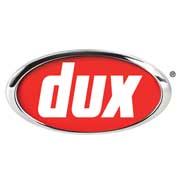 Instant and storage water heaters
Condensing continuous flow
only heat the water you need and never run out
6.7 Star energy rating
12-year warranty on heat exchanger, 3 years on parts and labour
natural gas or LPG options
90% thermal efficiency
Prodigy 4 and 5 Star gas storage
faster recovery rates meaning more hot water
full flow mains pressure delivery
7+ year tank and flue warranty
easy installation
Proflow electric storage hot water
25L to 400L models
indoor or outdoor installation
easily replace your old heater
full flow pressure to all taps
Your complete Dux water heater service
The team at Pure Plumbing Professionals specialise in finding the perfect hot water system for your home or business. Contact our plumbing experts for all your Dux hot water installation, repairs, and service on 0407 837 729 or complete our booking request form today.
*Conditions apply, speak to our friendly team for details.