Clearing blocked drains with professional drain cleaning
A slow draining sink or shower can be an indication that a blockage is forming in your drain pipes. Professional drain cleaning can quickly clear the obstruction to ensure your pipes drain freely. Our plumbing team uses a high-pressure drain jetter to clear blocked drains and prevent further plumbing problems.
For fast, effective drainage solutions in Sydney including comprehensive drain cleaning services book a Pure Plumbing Professional drain plumber today.
Book Drain Cleaning Online Now & Save 10%*
We can clear all types of blocked pipes
A high-pressure drain cleaner is effective on a range of drain types commonly found around your Sydney home or business, from clay drain pipes to PVC, plastic, cast iron, concrete, and more. We're often called out to unblock:
sewer pipes - such as a blocked toilet or sink drain
stormwater drains
gutters and downpipes
garden drains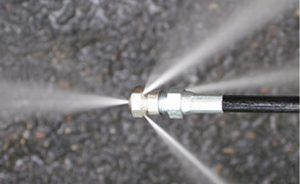 Drain clearing services
Our hydro-jetter is perfect for quickly clearing a range of common drain blockages, from tree roots to grease as well as:
dirt and mud
leaves and garden debris
rubbish
fat, hair, and oil
'flushable' wet wipes
The water jetter method is one of the most efficient and cost-effective ways of clearing drains.
A programmed maintenance schedule can be put in place for drains which are frequently blocking up.
Get to the bottom of frequently clogged drains
Recurring blocked drains can be very frustrating, find out what's going on down there and fix the issue with a comprehensive CCTV plumbing inspection. The detailed inspection can uncover any tree root intrusion, drain collapse or alignment problems caused by ground movement or the use of heavy machinery allowing long-term repairs such as pipe relining to be carried out.
The camera drain gives us a full-colour picture of your drain problems as well as the exact location of the issue allowing for specific, targetted repairs.
Drain cleaning Sydney north
Contact Pure Plumbing Professionals for all your drain cleaning needs across Sydney north on 0488 801 003 or complete our online booking request today.
*Conditions apply, speak to our friendly team for details.
Frequently Asked Questions about drainage solutions
Home owners or the council: who is responsible for your blocked drains?
How do I report a blocked drain to council?