Looking for a green plumber?
At Pure Plumbing Professionals we care about the impact that we have on the environment. We don't just practice environmentally friendly plumbing, we consult with our customers on the best 'green plumbing' strategies for their home and workplaces.
Book Plumber Today - $0 Call Out Fee*
*terms and conditions apply
Eco-friendly plumbing
Green plumbing services we can provide: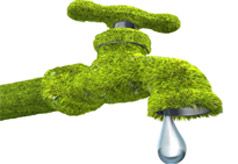 Rainwater tanks
Grey water systems
Rainwater harvesting
Water recycling
Water saving devices
Irrigation
Whether you're looking to capture rainwater or reduce your carbon emissions and energy use by installing a solar hot water system, our expert green plumbers can tailor the right environmental plumbing solutions to meet your needs and budget.
We'll also provide you with all the information that you need to take advantage of any Government rebates that might be applicable to your new services upon completion of the job.
Saving water at your home or workplace
Going 'green' doesn't have to be complicated or expensive. There are many small things you can do to save water every day. Here are our best water saving tips for your home or workplace.
Fix dripping taps and toilets – a slow dripping tap can waste approximately 20,000 litres of drinking water per year.
Replace older single flush toilets with dual flush systems
Adjust water temperature by turning down one tap, not turning up the other.
Wait till you have a full load to run the dishwasher or washing machine
Attach aerators on all the taps in your home
Install water efficient tapware and showerheads
Invest in water efficient appliances
Expert service and advice
For all your eco-plumbing requirements contact Pure Plumbing Professionals on 0488 801 003 or use our online booking request today.
*Conditions apply. Speak to our friendly team for details.