Your local backyard & garden drainage specialists in Sydney
Poor drainage can cause serious problems in your backyard - muddy lawns, weed infestation, dying grass and plants. Drainage problems can even weaken the foundation of retaining walls, patios, retaining walls and walkways. If you can see water pooling in your garden, you need to take quick action, and call your local drainage plumbers.
Our drainage solutions are designed to fix surface and sub-surface drainage issues to stop the garden drainage problems in the long term. Pure Plumbing Professionals are experts when it comes to practical and cost-effective drain solutions for homes and business across Sydney. For all your backyard drainage issues, contact us today.
DRAINAGE DEAL - Book Online Now For 10% Off*
Common backyard drain problems
One of the most common problems associated with poor backyard drainage is a soggy and muddy yard. Water pooling in the yard can attract mosquitoes, kill plants, encourage mould growth, and also make being outdoors unhealthy.
Some common problems associated with poor backyard drainage or the warning signs you should watch out for include:
Wet patches in the ground that do not go dry completely despite no rain
An eroded layer of soil
Water pooling in low points of the yard
Cracks in the retaining walls, the patio or building walls
Dying plants and grass
Excess water can also cause erode the underlying layers of soil, and in worst cases you might see holes appear in your garden. Topsoil, silt and mulch from your garden may move and accumulate in the lower sections of the yard.
If you notice any of these signs, installing trench drains, french drains or a soak well can solve your problems. Discuss your garden drain issues with our expert Sydney drainage plumbers and we will be happy to provide you with the right advice to fix your yard drainage issues.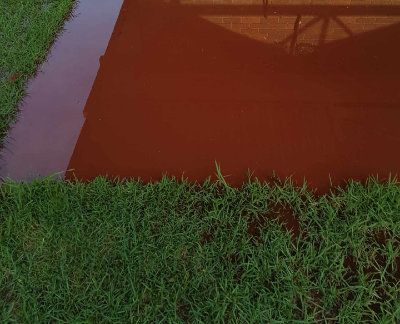 How can our plumbers help with your backyard drainage?
Poor drainage can cause major issues especially during periods of heavy rains. That's why we need effective surface and subsurface drainage solutions to prevent water damage to your home.
Our drainage solutions include installation, repairs and maintenance of:
Soak wells
Swale Drains
Spoon drains
Agricultural drains (Also called aggi drains, ag pipes, agi pipes, ag line)
Your Local Backyard Drainage Specialists Sydney
For all your backyard drainage needs, get in touch on 0488 801 003 or complete a drainage booking form today.
*terms and conditions apply
Frequently Asked Questions about drainage solutions
How do you clear blocked drains?
How do I know my sewer is clogged?