Professional pipe patching services in Sydney
Pure Plumbing Professionals specialist drain plumbers are experts at finding practical, efficient solutions for hard to reach damaged drains throughout Sydney. Our team provide no dig pipe repairs using a specially designed trenchless pipe patching systems to repair cracked, crushed or broken drain pipes without needing to dig up extensive areas of your property.
Experiencing repeated blocked drains due to a damaged pipe? Book no-dig pipe repairs today.
Book Drain Repairs Today - $0 Call Out Fee*
Trenchless pipe patch systems
Our top-quality, long-lasting trenchless pipe patch system involves carefully placing a new tough, durable inner layer inside the old broken section of pipe or drain in your sewage or stormwater system.
The pipe patch seals the drain stopping sewage or stormwater leaking out and preventing dirt, debris, or tree roots from working their way back into the pipe to block the drain or causing ongoing issues.
Pipe patching is effective on a range of pipes including:
Cast iron
Clay or terracotta
PVC - polyvinyl chloride
HDPE - high-density polyethene
How does trenchless technology assist the pipe repair process?
Trenchless technology provides a cost effective no dig solution which avoids the often time consuming and costly issue of digging up a broken pipe. These systems are especially useful when the damaged pipe is under established infrastructure such as the concrete slab of a house, a pool, driveways, retaining walls, or gardens.
Trenchless pipe repair can usually be carried out from a drain inspection point or vent removing the need to excavate around the pipe, cut and replace the damaged section, and then re-establish the ground above.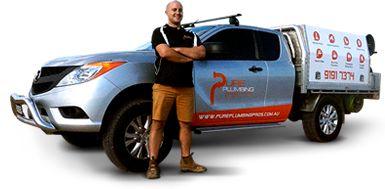 Repairing damaged pipes and drains
The first step your drain specialist will carry out is to locate and inspect the damaged area using a specially designed CCTV drain camera. This provides and clear picture of the problems as well as giving your technician an idea of the size of the pipe patch needed to fix the issue.
From there, any drain clearing will be carried out to ensure the new patch has a smooth surface to adhere to.
Your drain plumber will prepare the patch, which often involves impregnating the liner with a hard drying resin.
The pipe patch is placed onto a drum or packer which is fed along the pipe until in position.
The drum or packer is inflated expanding the patch to fit the drain, sealing the crack, break or hole.
The liner is then cured until it sets becoming very hard and creating a new smooth inner pipe inside the damaged section.
The drum or packer is removed and the finished liner inspected using the drain camera to ensure it is securely in place.
Your local no-dig pipe repair specialists
Our experienced plumbing and drainage team can take care of all your drain repair needs. Contact our Sydney pipe repair specialists on 0488 801 003 or complete our drain repair request today.
For more extensive drain repairs we recommend pipe relining.
*terms and conditions apply
Frequently Asked Questions about drainage solutions
How do I know my sewer is clogged?
How do I report a blocked drain to council?
Benefits of Routine Drain Cleaning